Dates: 12.-15.7. a 23. – 26.10
Imagine a 4-day trip around the capitals of Europe. You drive a lot of kilometers, every day you open your suitcase in a new hotel and the next day you have to pack up again and leave. On the other hand, imagine a hotel room where a beautiful natural film with the beauties of the Danube is constantly playing outside the window and you wake up every morning in a new city. During this short cruise on the largest river in Europe, you will have a full program full of experiences and luxury on one of the most beautiful ships on the Danube.
1. day: Linz
Boarding from 16.00 in the port of Nussdorf in Vienna. Departure at 17.00.
2. day: Bratislava / Komárno
A stop in Bratislava with a guided city tour | City tour of Komárno – the birthplace of Franz Lehár – with 6 fortresses from Roman times to the Habsburg Monarchy | optional: Excursion to Monostori Fortress, including a guided tour +20 EUR / per. (minimum 20 people)
3. day: Budapest
Guided city bus tour (3 hours). Afternoon, individually spent time including transfer ship-pedestrian zone.
4. day: Vienna
Arrival in Vienna at 13.00 – disembarkation.
Prices by accommodation type
2-bed cabin – Main deck aft (bunk bed, approx 10 m2) … 299 € / person
2-bed cabin – Main deck (1 bed + 1 sofa, approx 12 m2) … 385 € / person
2-bed cabin – Upper deck (2 beds, balcony, approx 16 m2) … 525 € / person
2-bed cabin – Promenade deck (2 beds, balcony, approx 16 m2) … 565 € / person
Surcharges for occupancy of the cabin by one person:
for one person on the main deck aft + 150 €; main deck +50 %; upper and promenade deck +75 % surcharge.
Occupancy of the cabin by more passengers:
The capacity of the cabin on the main deck is for max. 4 people (on bunk beds with a fold-away top). Cabins on the upper deck for max. 3 people(75 x 185 m convertible sofa).
Discounts for 3rd-4th person by age:
up to 5.9 years … 100%; up to 11.9 years … 50%; from 12 years … 25%
Services included
3 x full board including port taxes in a booked double cabin, shower / WC / TV / phone / safe / minibar / adjustable air conditioning
all excursions to the coast according to itinerary (Budapest city tour including boat-pedestrian zone transfer, city tour of Komárno, as well as the date of the city tour of Linz and Bratislava)
1 x partial body or 1 x hydrojet massage (each approximately 15 minutes) a 1 x traditional beard shaving per a main deck cabin
2 entertainment programs in the ship theater
all trips as described: walking tours in Bratislava and Komárno, a bus tour of Budapest, including an afternoon ship-pedestrian zone transfer.
Transport to Linz and from Vienna can be arranged at an additional cost. The language of the cruise is German, you can also speak English on the ship and part of the staff also speaks Slovak.
Accommodation and gastronomy
Accommodation
Ship MS Primadonna ****+ is the second largest ship on the Danube.
It has 80 cabins for passengers with individually adjustable climate, shower and WC, hair dryer, SAT-TV, phone, minibar and spacious closets.
Cabins on the main deck – area ca. 11,5 m² with one fixed bed and a large sofa. All cabins have a large, round window – not openable. There are also single cabins aft available for individuals with an area 9,5 m².
Cabins on the upper and promenade deck – area ca. 16,5 m² have two connected beds, writing table, balcony and sofa or two armchairs.
Gastronomy
The specialties of fine Viennese cuisine for guests are prepared by the 41-member staff, always from fresh ingredients and organic products. They serve a daily breakfast buffet with a large selection of hot and cold dishes, from a variety of menus you can choose from a three-course lunch and a four- to five-course dinner menu. Of course there is an afternoon sitting with tea, coffee and cake and a midnight snack or a second dinner.
The restaurant on the ship is proud of the title "Healthy Kitchen", which was awarded to it by the government of Upper Austria. If you have any dietary restrictions, please let us know when booking. Possibility to purchase a beverage package for the entire stay, which allows free consumption of soft drinks, beer, wine and quality sparkling wine from 12.00 to 24.00.
Cruise moments on ship Primadonna
Book a place for a cruise on the Danube. Your reservation will not become binding until you confirm and pay the cruise fee. We will send you payment instructions by e-mail.
Cancellation conditions:
More than 60 days before departure 10% of the price of the cruise
From 59 to 30 days before departure 50% of the cruise price
From 29 to 10 days before departure 70% of the cruise price
From 9 to 4 days before departure 90% of the cruise price
3 days before departure or no-show 100% of the cruise price.
Possibility of program changes during this trip in the interest of your safety, due to a pandemic, high or low water or other force majeure. Sections which for these reasons cannot be crossed by boat are then secured by bus, without increasing the price. The stated mooring times in ports may be affected by the height of the water and the passage of river locks.
The only cabin ship floating on the Danube under the Austrian flag was built in 1998 in Germany and underwent a complete renovation in 2009. The ship's facilities include the hotel's long lobby, the panoramic restaurant Primogusto and the bar Primaaperitivo, the Danube Arena Primavisto and the ship theater Primatheatro, where most guests meet. The whole ship has a pleasant climate, which can be individually regulated in the cabins. The Primadonna is the second largest Danube ship with a length of 113.5 m and a width of 17.4 m.
The stay is made more pleasant by the chosen architecture – the ship has the form of a catamaran, 9 meters high windshield and a glass floor at the reception – here the view falls directly on the underwater world and offers a unique experience. There is a small hot tub, showers, sun loungers and comfortable seating on the sun deck. Wellness facilities include an indoor hot tub, a Kneipp pool, and a sauna, where health and beauty treatments can be booked.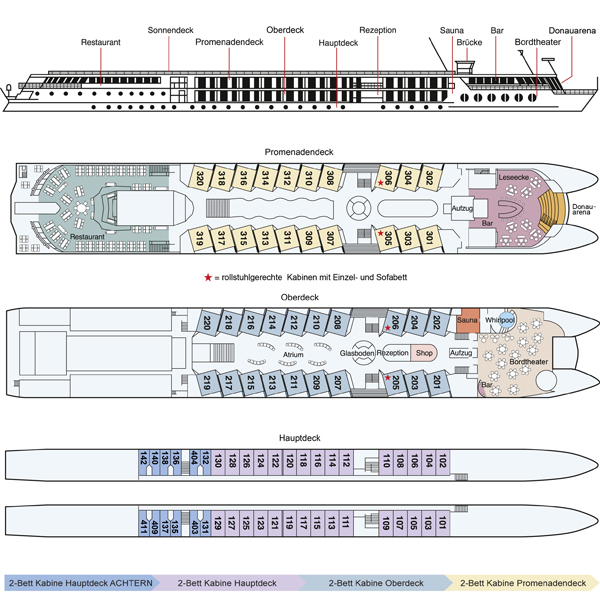 Length: 113,5 m
Width: 17,4 m
Speed: 14 knots/ 26 km/h
Engines: 2 main, 3 auxiliary
Air conditioning: 2 main
Draft: 1,7 m
Fixed point above water: 8,2 m
Capacity: 198 passengers
Number of cabins: 82
Number of crew members: 52
Number of decks: 4