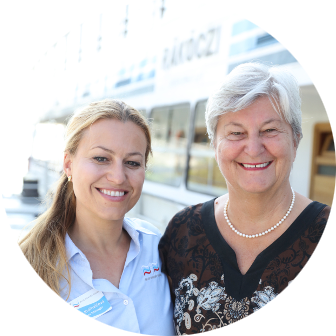 Our family company was established in 1995 and we specialize in programs for guests coming to Bratislava aboard cruise ships. Apart from traditional city tours, we offer trips around Slovakia, wine, beer and chocolate tasting, rides on Bratislava City Train, and Danube cruises. For our clients, we're happy to prepare tailor-made programs according to their requirements. We're available 24 hours a day and love challenges. With us, you will experience Bratislava with all your senses!
Specialists on the Danube, Bratislava and surroundings, long-term experience
Experiential programs, professional tour guides, tours in various languages
Our own sightseeing vehicles, for individuals, large groups or events
Regular cruises on the Danube
Sightseeing tours for the young and the old
From the year 2005 we offer rides with our red city trains Blaváčik to the Bratislava Castle, the Devín Castle and park Železná Studnička, all trips with live guide. The city train operates in any weather, because in addition to comfortable seating and retractable windows, it also has a solid roof. We can drive not only wedding parties, but also whole kindergartens and schools on an unforgettable trip!
Only the best for our guests
Reputation and quality of service at Blue Danube Tours is also formed by our guides. Only they will change your trip around Bratislava to an experience. We work with professional and experienced guides certified by BKIS or SSSCR, who speak almost all world languages. Do not hesitate to contact us if you are looking for a program for your relatives, business partners or foreign delegations!